In September 2014, we started a new project with Good News Family Care in Buxton.
Based at their family centre (Charis House) and their farm, we run a variety of workshops for homeless women and children, those recovering from drug/alcohol dependency and other women who are interested and would benefit from joining in.
Current project

We are delighted have started a new 2 year project with the residents of Charis House, Buxton, a safe place where homeless women, including those escaping from domestic violence, and women recovering from drug and alcohol dependency can find rest and recovery.
This programme works with artist carol Wilson, and residents and other women in the community in a wide range of creative arts.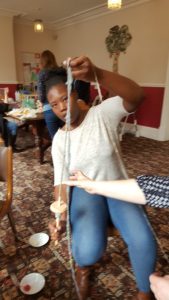 Workshops are held at Good News Family Care's Family Centre or Oldfield Farm.
Funded by The Ashley Foundation, The South West Peak Landscape Partnership, and the John Booth Charitable Trust, the project seeks to provide a fun, creative way of learning new skills, socialising and doing something different. The main ingredient in this project comes straight from local fields, courtesy of our four-legged fleeced friends at Oldfield Farm! Local Lleyn sheep take centre stage, with women learning all the processes about how to transform a sheep's fleece into carded wool – washing, sorting, dying, and carding – and then using the carded wool for wet felting, needle felting and weaving, as well as spinning the carded wool into yarn.
[foogallery id="7667″]
Recent Projects
National Writing Day
As part of National Writing Day, Bella Hardy (BBC Folk singer of the year 2014) ran a creative writing workshop with the women at Charis House. Everyone had a go at writing poems and song lyrics and also enjoyed a sneak preview rendition of a song from Bella's new album, due out in November. Funded by Writing East Midlands, we are now fundraising for a longer project.
In May, we held a Celebratory Event to unveil both the Willow Angel, Gabrielle, made with artist Christine Redstone, and two ceramic bird baths made with artist Caroline Chouler Tissier. We also enjoyed looking at the Canal Boat Art, weaving and printing done earlier in the year.
Ceramic Bird Bath.
Busy making an amazing ceramic bird bath with artist Caroline Chouler – Tissier. Funded by Santander Discovery Foundation.
Willow Angel
Participants worked to create a large scale sculpture of a Willow Angel, working with artist Christine Redstone. They decided she should be curvaceous, not skinny, and called her Gabrielle. See above! This was funded by the Jefford Wellor Fund of Foundation Derbyshire.
Canal Boat Art
Wit artist Debra Tracey, the group learnt the skill of canal boat art – such as Roses and Castles – and then painted jugs,planters, cans, and other items for sale and to use to brighten up the farm. This completed the 2 year project funded by Lloyds Bank Foundation.
Weaving
With artist Carol Wilson, the group enjoyed weaving, making small hangings for their own rooms in Charis House and Oldfield Farm.
Printing
With artist Sandra Orme, participants learnt a variety of printing techniques and used them to make cards, print onto aprons and bags.
Past projects:
'Tree of Life'
We created a wonderful Tree Of Life in Ceramics for the Dining Room / Lounge of Charis House, which was unveiled in February by The Chair of Derbyshire County Council, Cllr Steve Freeborn and the Mayor of the High Peak, Cllr Sewart Young.
We also made lovely tiles for the hallway, with flowers and the word, Peace, Freedom and Flourish.
Back in September 2014, We started with a felt making project with artist Carol Wilson – to create large hand felted wall hanging, and a table runner using naturally dyed wool from local sheep.
The group also had much fun with shadow puppets, with the Babbling Vagabonds, creating 2 shows for Easter, and singing with Rose Hodgson.
The group has now also completed a mosaic project to create plaques for the bedroom doors at The Family Centre in Buxton – on the theme of 'Flowers that Heal', and a large Welcome Sign for the farm.
The group worked with artist Deborah Pitman, had a lovely time, with great results.