Project eARTh
We meet Thursdays 10.30am – 1pm at Spring Bank Arts Centre , Spring Bank, New Mills SK22 4BH
Current projects:
Willow Mad Hatter's Tea Party Sculptures:
We are busy making wonderful willow sculptures of Alice, The Mad Hatter, The March Hare, a Teapot and Dormouse – all for our 40th Anniversary Tea Parties this summer – and then to go to a permanent home in the gardens of Primrose Court ( sheltered housing in Hayfield). We are working with artist Juliette Hamilton and having great fun – it is vert addictive and hard to stop weaving at 1pm.
Here they are as a work in progress…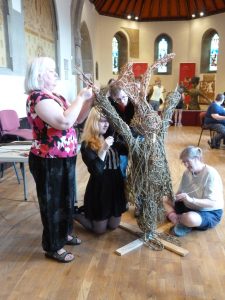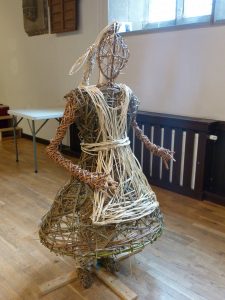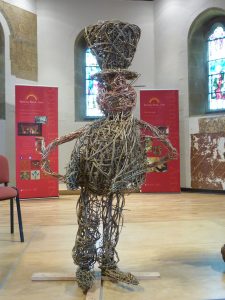 Our tea parties are all free to attend with free tea and cake, 2pm – 4.30pm:
Sun 7 July , Buxton, Foot of the Slopes, at the Junction of The Crescent and Terrace Rd
Sat 20 July, Glossop, Norfolk Square
Sun 22 September, New Mills, Town Hall
40th Anniversary Mugs and Plates
Also for our Tea Parties, we are making a set of ceramic mugs and plates each one commemorating a different project from High Peak Community Arts' past 40 years. Working with artist Caroline Chouler- Tisser, we have had a lovely time exploring old photos to use as decal transfers. Here are some in their early stages ….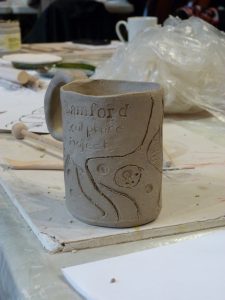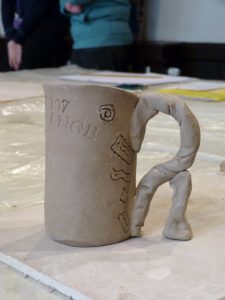 Recent projects:
Silk Painting for Spring Bank Arts
Participants worked with artist Amanda Whewell to create silk paintings as a wall hanging for Spring Bank Arts, inspired by Charles Kempe's stained glass windows. We made 5 hangings for the windows of the Ingham's Room, plus an accompanying book featuring smaller silk pieces, and participants sketches and notes.
They look stunning.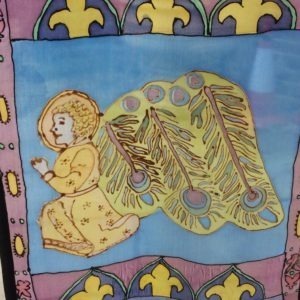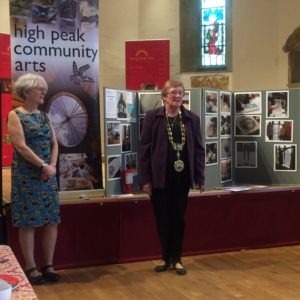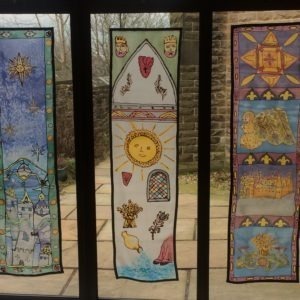 Ceramic Birds for Reuben's Retreat
Participants worked with artist Caroline Chouler- Tissier to create ceramic birds for Reuben's Retreat, the Glossop charity who are renovating the old Woods Hospital and work to relieve the distress of families who have suffered the bereavement of a child or have a child suffering from a life limiting/threatening illness.
The group made a large number of lovely ceramic birds, which were mounted on steel rods, and then installed in the gardens. these were unveiled by the Mayor of the High Peak, Cllr Linda Grooby, on October 18th. The participants were made very welcome by the charity, and everyone enjoyed tea, coffee and cake, and a tour of the building – both the completed 'Lodge' , and the old hospital .
St. George's Church Altar Frontal
Participants worked with artist Amanda Whewell to create a New Mills themed community altar frontal, using 'kantha' embroidery and tie dye. This was unveiled in July by Ruth George MP and the High Peak Mayor, Cllr Linda Grooby. We all think it looks fantastic.
COGS – Ceramic Welcome Signs
Participants at New Mills Project eARTh worked with artist Caroline Chouler Tissier on 2 large welcome signs that will be placed in the Community Field at Furness Vale in the High Peak. Taking inspiration from the surrounding environment, and how local residents can use the park, the designs will be a rich mixture of those drawn into the clay; built on as relief pieces; and created by drawings and photos used as de-cal transfers. The finished signs will be mounted on aluminium. We can't wait to see the finished results! We will unveil these on Tuesday 12th June.

Creative Writing:
Participants worked with writer John Lindley to write poems for an anthology. The Buxton group had writing workshops too, and the joint anthology, 'Carved from the Earth' has now been launched and is available at £3 from High Peak Community Arts and from High St Books and Records in New Mills.
Mosaic Trail:
Participants worked with artist Debra Tracey to create a Mosaic Trail for Furness Vale Community Field (COGS), inspired by flowers, birds, bugs and animals. An amazing 59 mosaics have been cemented onto rocks around the field, with a leaflet featuring them all for people to use and 'tick off' as the discover them all.
Steel Sculpture:
With artist Tracey Cartledge, Project eARTh participants worked with Year 5 children at Hayfield Primary School to create a steel sculpture for the 'Bus Turn Around' in Hayfield. The children came up with wonderful ideas, and the final design features a steam train called 'Queen Bee' .
Based on the train from New Mills Central arriving at the Hayfield terminus full of Sunday walkers back in the days following the Mass Trespass of 1932, this design concept references important history and also allows artwork from other pupils to feature in some of the carriage windows. In addition, this design has the interactive quality of providing an empty window in each carriage for visitors to pose behind for a great photo opportunity.
This sculpture, along with the sculpture designed by Project eARTh last year will be fabricated in the winter, and installed in early 2018. Derbyshire County Council Countryside Service have cleared the bus turnaround space , and are planting wild flower bulbs and seeds ready for next Spring.
The designs:
Orchard Textiles:
We worked with artist Amanda Whewell in hand printing, applique and embroidery to create beautiful curtains for High Lee Hall, inspired by New Mills Community Orchard. These were on display in Oxfam during New Mills Festival art Trail, and are now being enjoyed by all who work at and visit High Lee Hall.
Fused Glass:
We worked on fused glass project with artist Alex Blakey, creating a triptych of one metre by half a metre panels using a variety of fused glass techniques.
Here are a few pics of work on designs and learning the skills:
And the finished art work is now on display and looking wonderful at Manor House Surgery in Glossop.
Ceramic and felted Bird – themed project
Working with artist Caroline Chouler- Tissier we made ceramic birds and bird boxes, and with artist Carol Wilson, made felted bird pods. They formed a wonderful exhibition on Sat 5th November, and will now be distributed across the High Peak. Here are some of the final bird boxes and birds:
Invalid Displayed Gallery
A few of the felted pods ..more images to follow…
And the felted and ceramic birds on display..
Work during the project…
Steel Sculpture Project
In May we did a project with artist Tracey Cartledge to make a steel sculpture for Hayfield, near the DCC Countryside Services Centre at the end o the Set Valley Trail. The group worked on overall design, and elements to go in the sculpture. Tracey is pulling together the final design, which will be made by a blacksmith.
Visit the Peak District by Train:
Working with artist Caro Inglis, we have created a series of 5 wonderful collages of Edale, Bamford, Hope, Hathersage and Grindleford. These have been framed individually and will be donated to community venues.(After appearing in New Mills Festival Art Trail in September) .
We also used thee images to make a collective poster featuring all 5 pictures to make a poster, 'Visit The Peak District by Train'. In partnership with the High Peak and Hope Valley Rail Partnership, these large 'Double Royal' posters will be displayed at Manchester Piccadilly and Sheffield Stations. We will print smaller versions for community venues. The aim is to encourage train use to see the beautiful Hope Valley .
Each image has also been printed onto di-bond to be installed on each platform at the appropriate station- e.g. Edale collage at Edale station.
Some of the work during the project….
Creative Writing / Shadows
Working with writer and storyteller Gordon MacLellan, we explored writing and creating stories, using poetry, prose and shadow puppets. We have had a fun trip to Bugsworth Basin, and then made shadow stories about it – including a true life Victorian era murder which took place on a narrow boat. less gruesome, we also have lovely shadow puppets of ducks, otters and birds…
Lantern Making for Hadfield LanternParade
We held a short lantern making project with Gordon MacLellan, making lanterns for Hadfield's Lantern Parade on Fri Dec 4th 2015.
We also had 2 third year medical students from Sheffield University with us on a community placement, learning about Arts and Wellbeing.
Create A Song
We completed an eight week songwriting, singing and recording project with Singer Songwriter Claire Mooney. 24 of us jointly wrote a song – 'Seasons of Goodwill' , recorded it and performed it at our AGM on November 16th. As on week one only 2 people said they felt they could sing, this was a huge achievement. Everyone is rightly proud of the song! It will be distributed to visually impaired and disabled people via Buxton Talking Newspapers – but here it is for you to enjoy now!
Take Notice
We had a five week collage project with artist Caro Inlgis , focussed on the theme 'Take Notice' from the Five Ways to Wellbeing.
The Fabric of Our Lives
We worked with artist Sue Lawty, weaving with recycled fabrics and using withies as the warp and loom. We made a beautiful wall hanging for Spring Bank Arts, unveiled on April 24th.
Making our Garden Grow
We made 3D ceramics flowers with artist Caroline Chouler –Tissier . Together with those made by the Buxton group in the Spring, and those made by children in Caroline's artbox art clubs, the flowers were displayed in The Pavilion Garden Conservatory during the Buxton Festival 2015. The Celebratory Event was on July 9th , 11am – 12.30pm.
The flowers are now on display in the windows of Sett Valley Insurance in Market Street, New Mills.
Mosaic Trail
On Thursday 12th June, we started 7 weeks of mosaics with artist Debra Tracey. We made mosaics for installation along the path in 'Gamesley Woodlands', once more in partnership with Derbyshire County Council Countryside Service. The path runs from near Broadbottom to Simmondley, and might be know as some by the name 'Gamesley Sidings'.
The Mosaics were unveiled on April 24th 2015 by the Mayor of the High Peak, Cllr Alan Barrow.
Shadow Puppets
Throughout 5 sessions in May, we created shadow puppets and tales with Babbling Vagabonds Theatre Company. We had lots of fun playing with Fairy Tales and making shadows. It was only a short project, but we made a host of short films, and enjoyed ourselves! We aim to show them as part of New Mills Festival Lantern Parade in September 2014. Here are the short films we made….
Hayfield Spoken Word and Music Project.
Project eARTh worked with artist Phil Girling and with children from Yr 3 of Hayfield Primary School in a series of workshops to create music and spoken words on the theme of Nature and the changing seasons. The final result will be two solar powered audio benches on the Sett Valley Trail by Birch Vale Reservoir, and in Bluebell Wood in Hayfield, and a CD. Everyone enjoyed the project, and working together with the children!
The Celebratory Unveiling Event is set for Wed July 16th….

Glass Fusion
We had two glass fusion workshops with artist Debra Tracey making individual glass tiles, hangings, and jewellery.
Some photos to follow!!
Ceramics for Dinting Railway Station
We have been working with Glossop artist Adrian Holt, creating site specific relief ceramic pictures for Dinting Railway Station. We had a busy eleven workshops through the Autumn and Winter- visiting the station, a session of fascinating information from Neil Williams of Friends of Glossop Station, and then creating five large relief ceramic tiles. They will be unveiled on Wednesday 18th June 2014. We will meet at 11am at Dinting Station, to see the artworks, then move to Bradbury House for photo display, slide show and refreshments. All welcome.
The pieces look fantastic..click on the photo below to see the slideshow…..
'Moorland Panorama' , a wonderful felted wall hanging, was created by Project eARTh with artist Carol Wilson. This beautiful art work was unveiled by the Mayor of The High Peak on August 8th at its new permanent home, the Moorland Centre, Fieldhead, Edale. S33 7ZA. You can see it there along with a photographic exhibition of the project. The exhibition will be there during August and part of September.
The project before that was a Comic/Cartoon project with artist Jim Medway exploring the local history of New Mills through making our own comic strips – click below for the finished comic!
New MillsComic
And some of Jim's cats…

The project before that was creating our own blog, which you can find at peakabout.wordpress.com , with artist Kooj Chuhan.