So here we all are, making a first pass at the archiving.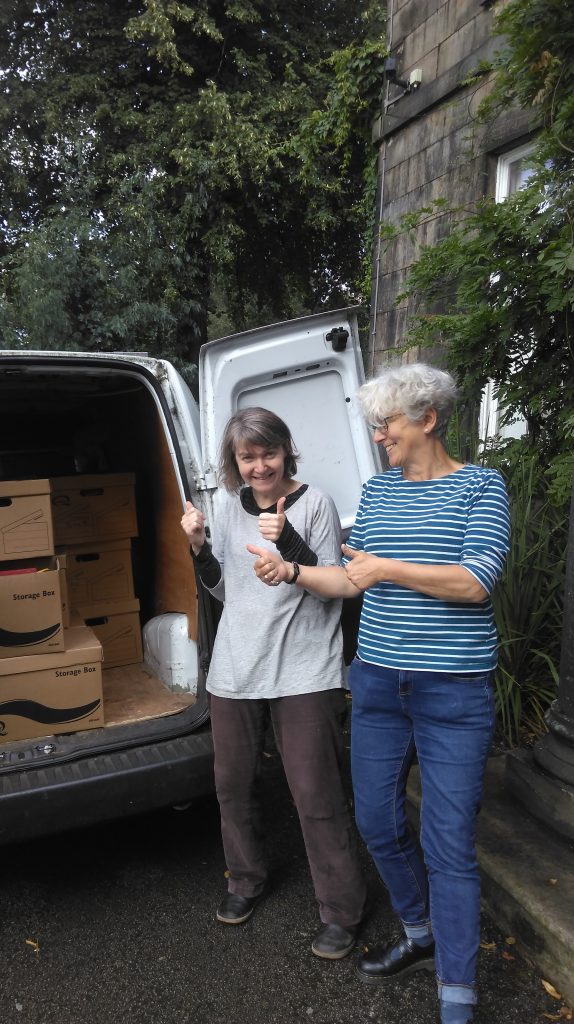 We have unearthed the boxes from the shelves in the Slightly Challenging Room, and this was exciting, because I discovered that we actually had an unsuspected cupboard (unsuspected by me – Sophie and Alison knew about it) behind a dismantled Yurt. We had all sorts of other things as well: a dismantled market stall, a life-size pinhole camera, two separate sets of crutches and what looks like an enormous roll of toilet paper. I did consider whether we should save the possible toilet paper for stockpiling in case of a no-deal Brexit, but I have decided to take it to be recycled.
Every time I go in the Slightly Challenging Room and see how much stuff we have got, I go home and get rid of something and clean something. So by the end of this process I will be living in a white box with no possessions, and my cats will have left home because I am forever lifting the poor things up to dust under them. But here we will still have 40 years' worth of all sorts of things.
Anyway, what we have been doing this week is taking all the boxes to Providence United Reformed Church so we can spread out properly, then going through the boxes to find things to do with our past projects, and sorting them into projects and decades, which will then be archived properly by the archivist who we are (hopefully) appointing very soon. It has been very interesting. We have huge amounts of project info, lots of slides and videos as well (so we will need to transfer them to a format we can see), and it has been quite a trip down memory lane for some of us and a learning experience for me (because I have only been here since last November). All sorts of things have gone on: projects for young people on alcohol awareness, an Aids awareness game, giant puppets, newsletters, poetry, lots and lots of artwork and films. There is lots of admin and finance stuff too, and the consistent theme over the forty years is that everyone has spent a lot of time and energy fundraising.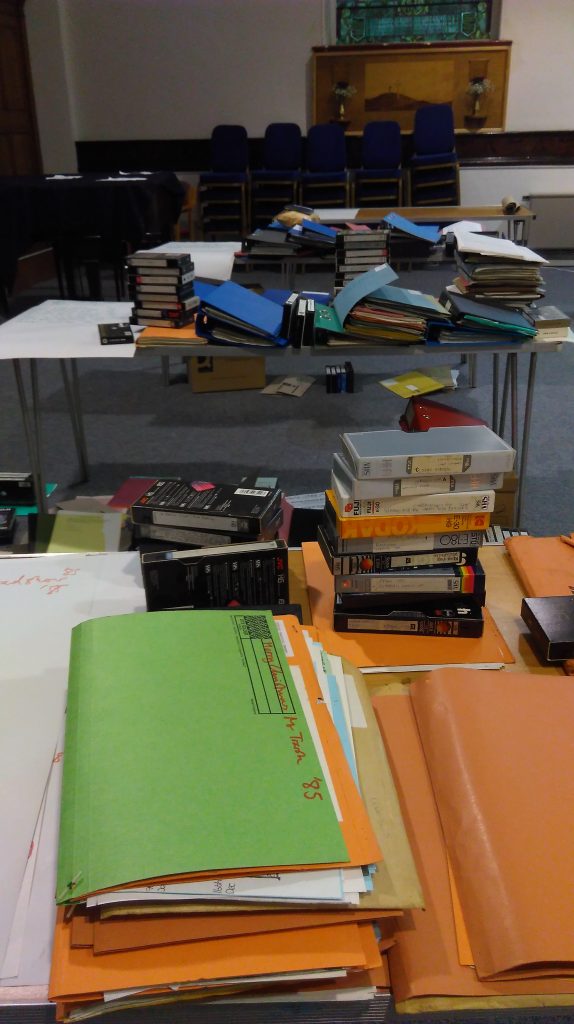 One thing that did amuse me: it has (and I know this will amaze you) occasionally been suggested that we at HPCA store quite a lot of stuff.
At one point, we seem to have been using the office as an artist resource centre, and at that point, someone contacted us to say that she was thinking of buying a Gamelan (a collection of large Indonesian musical instruments) and if she did, could we store it. I went a bit cold when I read that: I did momentarily think that perhaps there was another cupboard somewhere that I didn't know about, and it had a Gamelan in it. But no! We had emailed back and said that sadly we didn't have the room, and suggested other places she could contact. Well, I don't know if she was successful. But, next time someone says to us, look at all this stuff you have got in these offices, have you not thought of being more minimalist, I will be able to say: it could be worse: we could have had a Gamelan, and we haven't. So in comparison, the Yurt is manageable (just about).